Leading SAFe 4.0 – SA Certified Course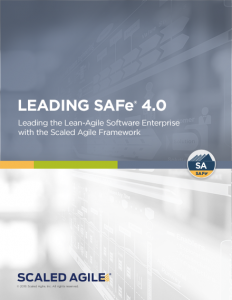 Are you a manager, executive, or leader within an organization looking to transition to agile or Scrum? Leading one that's already transitioning to agile or Scrum? Do you want to know how to best lead your agile teams? Do you want to know how to integrate the work your teams are doing in the agile space with your corporate organization or larger enterprise? Then Leading SAFe 4.0 is for you!
SAFe (the Scaled Agile Framework for Enterprises) provides a framework for better aligning work on teams with business initiatives and goals. For large organizations, SAFe provides a strong link between business initiatives and the work teams do on a daily basis. In smaller organizations, simpler implementations can be used for alignment and in larger organizations being able to coordinate and align the work of multiple teams can produce major benefits.
We'll also talk about leading an agile organization and how you can help your teams excel and improve. And you will have the opportunity to test for the SAFe Agilist (SA) certification following the course!
Who Should Take This Course?
Executives and Leaders, Managers, Directors, CIOs, and VPs

Development, QA and Infrastructure Management

Program and Project Managers

Product and Product Line Management

Portfolio Managers, PMO, and Process Leads

Enterprise, System and Solution Architects
About the Course
This course teaches the Lean-Agile Principles and practices of SAFe. You'll learn how to execute and release value through Agile Release Trains, how to build an Agile Portfolio, and how to lead a Lean-Agile enterprise. 
After this course, you will understand how to:
Apply SAFe to scale Lean and Agile development in your enterprise

Support the execution of Agile Release Trains

Coordinate large Value Streams

Manage a Lean-Agile Portfolio

Align the organization to a common process model

Configure the Framework for your context

Unlock the intrinsic motivation of knowledge workers

Support a Lean-Agile transformation in your enterprise
Topics Covered
Introducing the Scaled Agile Framework (SAFe)

Embracing a Lean-Agile Mindset

Understanding SAFe Principles

Implementing an Agile Release Train

Experiencing PI Planning

Executing and Releasing Value

Building an Agile Portfolio

Coordinating Large Value Streams

Leading the Lean-Agile Enterprise
At the conclusion of the class, you'll receive information about taking the exam to be certified as a SAFe Agilist (SA). 
Why Artemis?

Taking your class through Artemis provides you access to ongoing support on your agile path. Benefits include:
Access to coaches experienced in teaching Leading SAFe and in PI Planning

Access to our members-only LinkedIn forum

to discuss your challenges and get help from our coaches and others who have walked the path before you

Discounts on future courses

Priority status and discounts for on-site coaching and training
Interested in PDUs from this class for PMI (Project Management Institute)? You can earn 16 PDUs from this course!