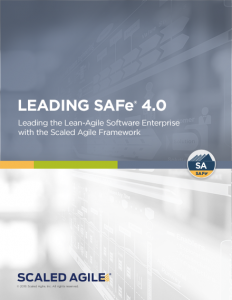 We are proud to announce that we are now offering Leading SAFe 4.0 for our students and clients! This newest version of the Scaled Agile Framework helps resolve some issues with large cyber-physical systems, better coordinating multiple Agile Release Trains (ARTs) across a Value Stream. You can view the new version of the model on Scaled Agile's website here. Our Leading SAFe 4.0 training can help your organization overcome the difficulties of adopting agile at scale.
Leading SAFe 4.0 is primarily designed for:
Executives and Leaders, Managers, Directors, CIOs, and VPs
Development, QA and Infrastructure Management
Program and Project Managers
Product and Product Line Management
Portfolio Managers, PMO, and Process Leads
Enterprise, System and Solution Architects
After this course, you will understand how to:
Apply SAFe to scale Lean and Agile development in your enterprise
Support the execution of Agile Release Trains
Coordinate large Value Streams
Manage a Lean-Agile Portfolio
Align the organization to a common process model
Configure the Framework for your context
Unlock the intrinsic motivation of knowledge workers
Support a Lean-Agile transformation in your enterprise
All are welcome to attend the course, regardless of experience. However, the following prerequisites are highly recommended for those who intend to take the SA certification exam.
5+ years experience in software development, testing, business analysis, product or project management
Experience in Scrum
Check our Events Calendar for information about our upcoming classes. If you don't see a class in your area, please contact us and we can work to arrange one local to you!